An Android PC Suite can be an absolute life-saver when managing data on your Android smartphone. Necessary tasks such as freeing up data on your Android device and transferring content between your desktop computer or from one phone to the other can be achieved hassle-free and in most cases, in just the click of a button once the right software is downloaded. There are a number of great solutions out there on the web today, many of which are free to download.
However, when it comes to freeware, and in particular when combining these solutions with your personal data, there is always a concern about how your information is being handled. Also, free software doesn't always get the ongoing care and attention (unlike paid for software), so regular updates and compatibility with the latest smartphones isn't always guaranteed.
Here, we'll walk you through the best paid for Android PC Suites on the market today.
Summary
1. Dr.Fone – Phone Manager
2. Dr.Fone – Phone Transfer
3. Tenorshare – 4uKey (Screen Unlock) HOT!
4. Tenorshare – WhatsApp Transfer HOT!
5. Dr.Fone – Data Recovery
6. Dr.Fone – System Repair
7. Dr.Fone – Backup & Restore
Having reviewed many Android PC Suites in our time, we are well suited to give you a steer on which software you should download. Over the years we've tried and tested many different Android PC Suites, but here's a summary of the one's we think you should use to enhance your Android experience in 2021. We're also confident that these PC Suites will be around in years to come, and will continue to be supported and updated by their developers, unlike many free variations which have already been deprecated by their creators due to the cost and time involved to maintain them.
On AndroidPCSuite.com we have a number of solutions to help Android smartphone users overcome a number of data challenges, from switching between phones, backing up and restoring content and retrieving content from irreparable devices.
Firstly Though, What's an Android PC Suite?
An Android PC suite is a PC or MAC based application especially designed for managing and transferring data between your Android smartphone and PC. It is used to backup and transfer photos, videos, texts, apps and much more. It is even used to bypass lock screens and recover data on damaged devices.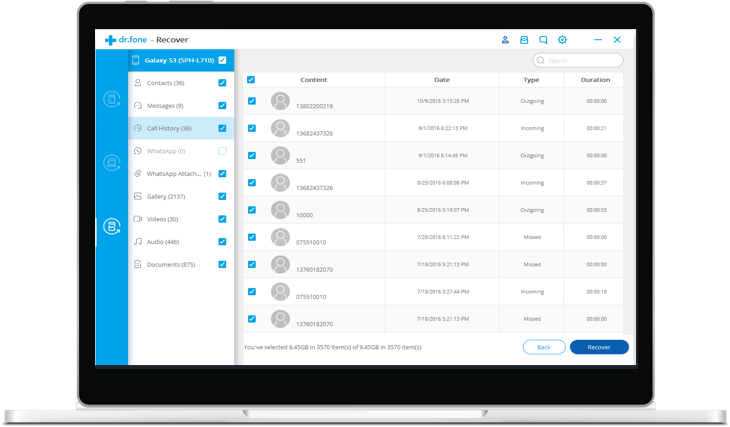 Android PC Suite software has become widely available due to the billions of Android phone users globally. One of the major challenges, whether it be for individual or business use, is ensuring content is transferable or recoverable between phones.
Software has been developed to help users retain data that is stored on Android devices. Android PC Suite software is the solution that helps users to recover and transfer important photos, contacts and other information from old smartphones and transfer them to new devices. Prior to Android PC Suite software, users would either have to manually import information or simply accept that data on old phones will be lost or only accessible by keeping old phones available.
Android PC Suite software allows users to transfer and manage Android data in simple one-click processes, and even works for devices that are broken or password locked.
Why Do I Need One?
An Android PC Suite is essential when it comes to recovering and managing photos, media files or contacts. Software available today enables Android users to back up their smartphone contents to their computer for safe keeping, and restore it to their device as and when they need.
Whether you are simply lacking in storage on your Android phone or wondering if cloud backup services are safe, an Android PC Suite acts as the perfect solution as you can quickly and safely transfer your your smartphone content to your laptop or PC where only you can access it.
Android PC Suite software has advanced beyond data storage and now offers solutions to a number of Android situations, from unlocking a password protected device to recovering content from a bricked handset. You can even transfer content from one phone to the other in just a click!
How Easy Are They To Use?
Android PC Suites are relatively simple to use. All you have to do is download and execute the setup of the software on your PC or MAC and then most just require a USB connection to get started. Once connected you should follow the onscreen instructions to achieve whatever you have set out to do.
Which One Do I Need?
OK, that depends on what your initial problem is. Here we've listed the 12 best Android PC Suites on the market today, with details of the solution they provide. Here goes:
Dr.Fone

Phone Manager

Android transfer and data management solution
Transfer files between Android and your PC, all file formats supported
Transfer from iTunes to Android and vice versa
Supports 8000+ Android devices
Available for Windows on PC or Mac

Porting content between your Android device and PC is easy with Dr.Fone – Phone Manager, in just a few steps you can selectively transfer content from your smartphone to your PC and vice versa, or click a button to move all data across in an instant. For example, if you wish to move photos, text messages, contacts or some iTunes songs from your PC to your Android device, this software allows you to do it seamlessly.

You can even manage your smartphone from your PC, for example deleting content from your phone using the software options on your PC.
Dr.Fone

Phone Transfer

Move data between devices (Android to Android, iOS to Android)
Transfer contacts, SMS, photos, videos, music and more file types
Simple, point and click process
Supports 8000+ Android devices
Available for Windows on PC or Mac

Got a new phone? Looking to migrate your content from one handset to the other? Perhaps even iOS to Android? Well, whether you are looking to transfer data from one Android phone to another, or Android to iPhone, Dr.Fone – Phone Transfer is the best software available for handset migration.

Dr.Fone – Phone Transfer works perfectly for more than 8000 smartphones and tablets, including Apple, Samsung, HUAWEI, OPPO, Sony, HTC, Google, LG, Motorola, ZTE, and more. Regardless of whether your device is provided by AT&T, Verizon, Sprint or T-Mobile, or unlocked. Devices running the latest iOS and Android system are also supported.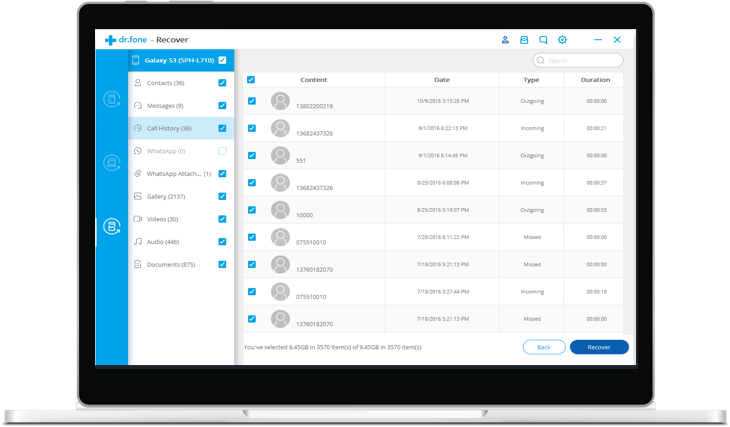 Dr.Fone

Data Recovery

The world's 1st Android data recovery software
Highest success rate of retrieving data in the industry
Supports 6000+ Android devices
Recovers photos, videos, contacts, messages, call logs, and more
Supports to extract data from broken Samsung phones

Dr.Fone – Data Recovery helps you to retrieve content and data from broken Android devices, no matter what you've lost or how you've lost it. This software recovers data from over 6000 Android devices, from almost any scenario, including:

Accidental Deletion
System Crash
Forgotten Password
SD Card Issue
Rooting Error
ROM Flashing
Damaged
Not Responding
Black Screen
Factory Reset
Dr.Fone

System Repair

Fix various Android system issues like black screen of death
Restore Android system to normal. No skills required!
Supports 1000+ Android devices
Highest success rate of fixing Android issues
Available for Windows on PC or Mac

Come across abnormal symptoms on your Android phone or tablet? Unable to access your device due to it becoming unresponsive? Perhaps apps keep crashing or the latest Android update didn't run successfully? If any of these symptoms are familiar, there's a high possibility that the Android system has gone wrong somewhere.

Now, if you're a bit of an Android wizard, then fixing these types of issues may be fairly straight-forward. But for the majority, we're left in the dark and wondering whether or not a new phone is required.

Dr.Fone – System Repair is the only Android PC suite of it's type, and has been specifically programmed to identify issues and fix them in just a couple of clicks. All you need to do is connect your misfiring Android device to your PC, load the software and let it run it's diagnostics.

This Android repair tool has the highest success rate of repairing known Android issues, and is able to fix a large list of symptoms, including:

Black screen of death
Play Store not working
Android won't turn on or off
Apps keep crashing
Android OTA update failed
Stuck in boot loop
Android system UI not working
Android phone or tablet gets bricked
Dr.Fone

Phone Backup & Restore

Selectively backup Android data to your computer with one click
Preview and restore backup to any Android/iOS devices
Restore iCloud/iTunes backup to Android devices
Supports 8000+ Android devices
Available for Windows on PC or Mac

The most basic of Android PC Suite needs: to backup your smartphone contents to your desktop PC. dr. fone – Phone Backup & Restore does exactly what it says on the tin. In just a click you can backup all of your Android contents to your personal computer for safe keeping. This is a great and effortless way of allowing you to free up storage on your device.

Once backed-up, you can restore the contents to your device in just a click also.

Dr.Fone – Phone Backup & Restore allows you to easily backup almost all types of data including calendar, call history, gallery, video, messages, contacts, audio, applications and even application data. You can also preview and selectively export any type of data you want. The program also allows you to easily restore the data to any Android/iOS devices whenever you need to.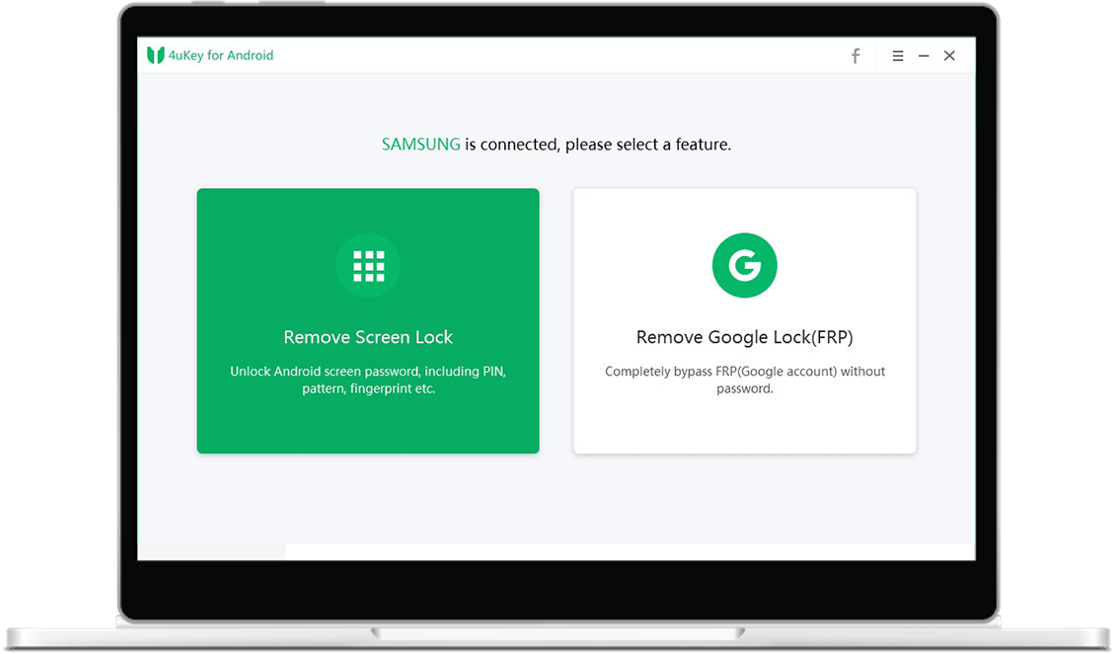 Tenorshare

4uKey (Screen Unlock)

Remove Android password, pattern, PIN & fingerprint lock
Remove Google account from Samsung device without password
Secure unlocking in minutes with easy operations
Supports 8000+ Android devices
Available for Windows on PC or Mac

This Android PC Suite has been uniquely developed to enable you to unlock Android devices which have been screen locked via the baked in pattern, PIN, password and fingerprint security features. Once the device is connected to the software application via USB cable, you simply follow the on-screen options to bypass the lock screen and use the phone as normal.

The software is simple to use and is designed to assist Android users who have purchased a second-hand phone who have discovered the lock screen is still active, a common issue in the second-hand phone market. If you have locked your Android device only to forget the password or pattern applied, simply use this tool to bypass and recover access in just a couple of clicks.
Tenorshare

WhatsApp Transfer

Easily transfer WhatsApp chats between Android & iOS
1-click to backup or restore WhatsApp data & WhatsApp business
Transfer WhatsApp groups, messages, photos and audio files
Backup & restore iOS Kik/LINE/Viber/WeChat chat history to Mac
Supports 1000s of Android and iOS devices

With this Android PC Suite you can backup and restore all of your chats and messages between operating systems, so if you are switching from iOS to Android, simply use this tool to backup your chats from your iPhone and then restore them all to your new Android device in just a click.

Tenorshare – WhatsApp Transfer supports to transfer WhatsApp and WhatsApp Business messages and attachments, including videos, images, and files between Android & iOS, Android & Android, iOS & iOS without any limitations. The latest operating systems of Android and iOS are supported.

And there we have it, our guide to the best Android PC Suites on the market today. Did you download one? Let us know how you got on in the comments!