Android smartphone users who wish to transfer their precious contents to their PC may find a shortage of decent solutions due to the open source nature of Google's operating system. Over the years there have been a number of programmes that have been and gone, mainly due to the lack of support or the notable cost of maintaining such software in a freeware environment.
AndroidPCSuite.com has been serving the latest and greatest Android Manager solutions since 2012, but as we know, not all software vendors offer the features, flexibility and support expected by today's Android community.
Cut to today, and we're pleased to offer a range of software that enables you to securely transfer and store your Android contents to your PC, compared to a cloud backup solution which would normally incur additional cost or security concerns.
Visually doing this via an affordable solution would normally come in limited supply however.
That is, unless you use an Android PC Suite, such as Dr.Fone – Phone Manager or ApowerManager – Phone Manager to assist you.
In this article we'll introduce you to the aforementioned solutions, so you can learn more, download them and start better managing your Android smartphone contents.
Firstly Though, What's Android Manager Software?
Android Phone Manager software is a PC or MAC based application especially designed for transferring all of your Android contents between your device and your PC. The software works by simply connecting your device to your PC or MAC using a USB or Lightning Connector and following the simple on-screen instructions to selectively transfer your contents between devices.
Android Manager software supports over 8,000 devices on the market and can successfully transfer all of Android contents between your device and PC in just a couple of clicks, and in a visual, manageable way.
Why Do I Need One?
Android Manager software can be an absolute life saver when it comes to freeing up space on your Android device or simply storing content on your secure PC.
By simply connecting your device to the right software, even the most untech-savvy user can follow the on-screen options to perform the transfer of Android phone content to their PC.
How Easy Are They To Use?
Android Manager Software is relatively simple to use. All you have to do is download and execute the setup of the software on your PC or MAC and then most just require a USB or Lightning connection to get started. Once connected you should follow the onscreen instructions to perform the transfer. Gone are the days when software was difficult to follow or install, Android Transfer Software on our website is current and vetted by our team so you can have 100% confidence in the security of the installation.
Is Android Manager Software FREE?
Most Phone Transfer software are completely free to download and install however some of the more advanced features will require a licence fee in order to use fully. This is because nowadays there are more and more device manufacturers in the market, meaning dozens of new phone releases per year, per manufacturer. For you, this means our software needs ongoing development to stay compatible with the phones you use, and obviously that costs money.
OK, so that's the background. Let's cut to the chase. Below are the best and most popular software solutions for transferring Android files and content between your smartphone and PC.
Dr.Fone

Phone Manager

Android transfer and data management solution
Transfer files between Android and your PC, all file formats supported
Transfer from iTunes to Android and vice versa
Supports 8000+ Android devices
Available for Windows on PC or Mac

Porting content between your Android device and PC is easy with Dr.Fone – Phone Manager, in just a few steps you can selectively transfer content from your smartphone to your PC and vice versa, or click a button to move all data across in an instant. For example, if you wish to move photos, text messages, contacts or some iTunes songs from your PC to your Android device, this software allows you to do it seamlessly.

You can even manage your smartphone from your PC, for example deleting content from your phone using the software options on your PC.
How to Use Dr.Fone – Phone Manager
Step 1. Launch Dr.Fone – Phone Manager Software
Launch Dr.Fone on your computer, and select "Phone Manager".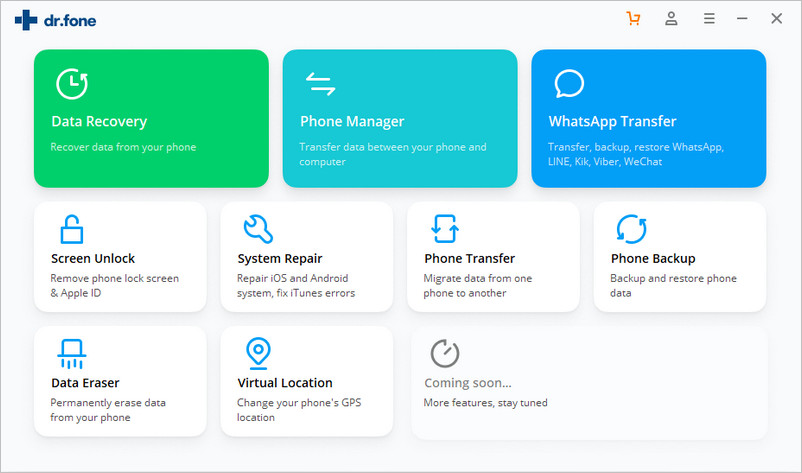 Step 2. Connect Your Android Smartphone
Launch Dr.Fone and connect your Android phone or tablet to PC using a USB cable. Your Android device will be recognized and displayed in the primary window.
Step 3. Transfer Photos and Files Accordingly
Use the on-screen options to select files you wish to transfer to your PC. Export to PC all at once or selectively. Likewise, import to your smartphone from your PC file by file or all at once. File types present different on-screen options for managing the information available on your device.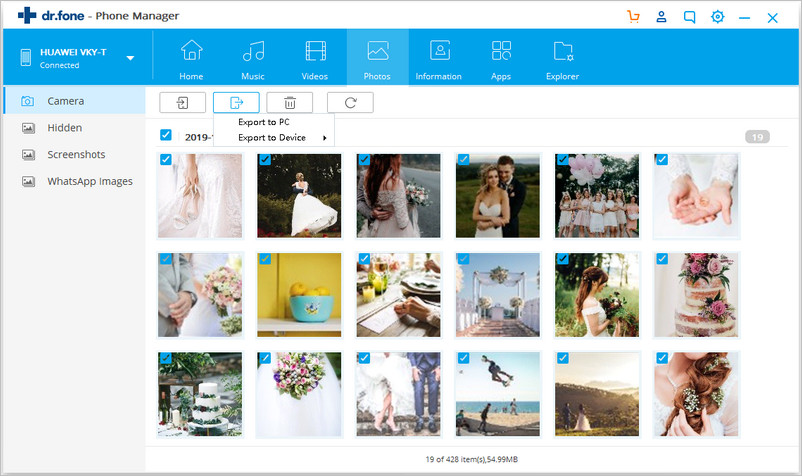 ApowerManager

Phone Manager

The complete Android PC Suite solution for all your needs
Transfer, backup and restore all file types between Android and PC
Send messages from your PC, display phone screen on PC and more
Supports 8000+ Android devices
Available for Windows on PC or Mac

This is the complete Android PC Suite, enabling Android users to transfer, backup and restore all files in just a few clicks. A modern design and rich with features, this software even allows you to message contacts from the desktop and even share your mobile screen with your PC. This software is not short on features, which is why it features first on our list of Best Android PC Suites!