Dr.Fone

Screen Unlock

Remove 4 screen lock types – pattern, PIN, password & fingerprints
Only remove the lock screen, no data loss on most Samsung and LG phones
No tech knowledge required, simple on-screen instructions
Supports 8000+ Android devices
Available for Windows on PC or Mac

About Dr.Fone – Screen Unlock with no data loss
This Android Screen Unlocker has been uniquely developed to enable you to unlock Android devices which have been screen locked via the baked in pattern, PIN, password and fingerprint security features. Once the device is connected to the software application via USB cable, you simply follow the on-screen options to bypass the lock screen and use the phone as normal. This Android PC Suite works seamlessly with most Samsung devices without deleting any of the data stored on the phone, it even works with phones that are network locked or disfunctional due to a broken or cracked screen.
The software is simple to use and is designed to assist Android users who have purchased a second-hand phone who have discovered the lock screen is still active, a common issue in the second-hand phone market. If you have locked your Android device only to forget the password or pattern applied, simply use this tool to bypass and recover access in just a couple of clicks.
Features of Dr.Fone – Screen Unlock
This screen unlock tool will help you to bypass lock screens in seconds regardless of how the screen has been locked i.e. password, PIN or fingerprint. The simple on-screen instructions (once the phone is connected via USB) will help you to bypass Android security and regain access so you can use the phone, even if the screen has broken. With access to the device you can then use other Android PC Suite software to transfer content to your PC and restore date to your new phone, if required.
This Android PC Suite works perfectly with Samsung and LG handsets without data loss on most models, other competing software will wipe your phone resulting in a full reset of the device. This aspect of the software makes it unique in the market. This Android software can unlock security protected devices from other manufacturers too (such as Huawei, Xiaomi, Sony and Lenovo), but will result in data deletion. Still, full access to your device will be granted and you can begin using the handset as if you'd bought it from new.
How to Bypass Android Lock Screen with no data loss
Step 1. Launch Dr.Fone – Screen Unlock Software
Launch Dr.Fone on your computer, and select "Screen Unlock".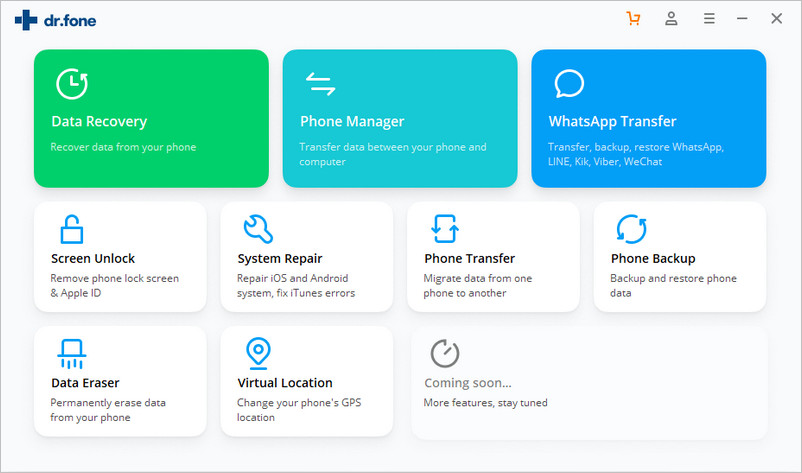 Step 2. Connect Your Android Smartphone
Connect your Android phone to the computer using a USB cable. Then click "Unlock Android Screen" on the program.
Step 3. Select Device Model
Since the recovery package for different phone models is different, it's very important to select the correct phone model. You can find all the supported device models in the list.
Step 4. Enter into Download Mode
Then follow the instructions on the program to get the Android phone into Download Mode.
Power off the phone.
Press and hold Volume Down + Home button + Power button at the same time.
Press the Volume Up to enter Download Mode.
Step 5. Download Recovery Package
When the recovery package downloading is complete, click "Remove Now". This will unlock your device and enable full access.
Note: This tool can remove Android the lock screen without losing data only for the devices on the list provided. For other devices, you have to use the advanced mode, which will remove the lock screen by erasing data. Please view this full guide for details.
Technical Specifications of Dr.Fone – Screen Unlock
Technical Specifications
CPU: 1GHz (32 bit or 64 bit)
RAM: 256 MB or more of RAM (1024MB Recommended)
Hard Disk Space: 200 MB and above free space
Android: Android 2.0 and above
Windows: Win 11/10/8.1/8/7/Vista/XP
User Ratings & Reviews
5 out of 5 stars (based on 6 reviews)
Unlocked but follow the steps
The software works but make sure you follow the instructions
Perfect
Was skeptical at first but worked a charm.
Worked
Thanks, got into my phone!
Bypassed password!
Unlocked my Samsung S9 and data seems to be kept.
You may also like…