Android phones come with pretty neat security features, helping to protect you and your content from smartphone thieves. The baked-in PIN and pattern lock is widely used and does just the job of keeping your precious smartphone data safe. But what would you do if you forgot your PIN or pattern lock credentials? Sure as anything, you'll quickly find yourself frantically wondering how on earth you can regain access to your Samsung device without forking out a small fortune to your local smartphone diagnostic center.
Well, if you've arrived here because you are in search of a quick and affordable way of unlocking your PIN or pattern locked Samsung device, then you'll be delighted to find the solution below.
You'll need four things in order to regain access to your locked Samsung phone:
1. Your locked phone
2. A laptop or PC
3. A USB to smartphone cable
4. You'll need to download a handy piece of software called Dr.Fone – Screen Unlock.
Before we show a step by step of how to unlock your Samsung handset using the above, let's quickly run through the features of Dr.Fone – Screen Unlock.
Features of Dr.Fone – Screen Unlock
This screen unlock tool will help you to bypass lock screens in seconds regardless of how the screen has been locked i.e. password, PIN or fingerprint. The simple on-screen instructions (once the phone is connected via USB) will help you to bypass Android security and regain access so you can use the phone, even if it the screen has broken. With access to the device you can then use other Android PC Suite software to transfer content to your PC and restore date to your new phone, if required.
This Android PC Suite works perfectly with Samsung and LG handsets without data loss on most models, other competing software will wipe your phone resulting in a full reset of the device. This aspect of the software makes it unique in the market. This Android software can unlock security protected devices from other manufacturers too (such as Huawei, Xiaomi, Sony and Lenovo), but will result in data deletion. Still, full access to your device will be granted and you can begin using the handset as if you'd bought it from new.
OK, that's the software. Let's show you step by step how it works:
Step 1. Launch Dr.Fone – Screen Unlock Software
Launch Dr.Fone on your computer, and select "Screen Unlock".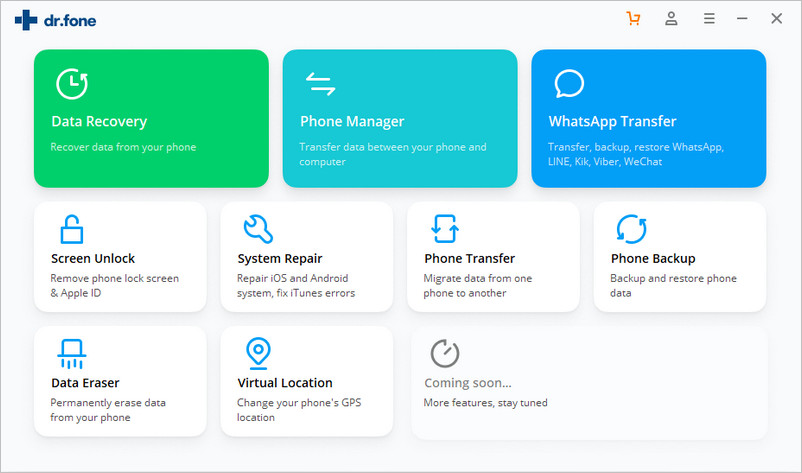 Step 2. Connect Your Android Smartphone
Connect your Android phone to the computer using a USB cable. Then click "Unlock Android Screen" on the program.
Step 3. Select Device Model
Since the recovery package for different phone models is different, it's very important to select the correct phone model. You can find all the supported device models in the list.
Step 4. Enter into Download Mode
Then follow the instructions on the program to get the Android phone into Download Mode.
Power off the phone.
Press and hold Volume Down + Home button + Power button at the same time.
Press the Volume Up to enter Download Mode.
Step 5. Download Recovery Package
When the recovery package downloading is complete, click "Remove Now". This will unlock your device and enable full access.
There, you've regained access to your Samsung handset! Now you can reset your PIN or Pattern lock and enjoy life again.