Today, many of us rely on our smartphones to communicate, work, and play. Therefore, it can be quite alarming when they begin to act strangely – especially if you can't get your phone to turn on at all.
One of the most concerning issues to plague smartphone users is a black screen, often referred to as the "black screen of death." However, despite the harsh name, this issue can be remedied in several ways.
So, if your phone's screen has suddenly turned off for no reason, don't panic –simply follow these four tips.
1. Try a Hard Reset
To fix a black screen on Android, the first (and easiest) step is to do a hard reset. This basically entails rebooting the phone's software. A hard reset can be performed right on your phone, although the process differs depending on what type of device you own.
If you're wondering how to do a hard reset on an Android, follow these steps:
Android
Press thehomeand thepowerbuttons simultaneously for 10 seconds.
As soon as you've released, press down on thepowerbutton to see if it turns back on.
2. Check the LCD Cable
If you're still staring at a blank screen, it's possible that the cable connecting the logic board to the LCD screen has become disconnected. This can occur if you accidentally drop your phone a few times. In order to regain your screen's functionality, the cable will need to be plugged back in.
3. Perform a Factory Reset
When your phone screen goes black randomly, it may be an indication that something is wrong with your operating system. In that case, a factory reset is often beneficial. During a factory reset, your device's data and settings are completely wiped, returning the phone to its original state (i.e., the state it was in when you first purchased it).
Not sure how to do a factory reset on an Android? The process is more involved than that of a hard reset but can still be done with moderate ease.
Android
Back up your device to Google Drive or your PC.
Open your phone'ssettings
Selectsystem>advanced>reset options.
Selecterase all data (factory reset).
Selectreset phone. At this point, you may need to enter your PIN, password, or pattern.
Select theerase everything
Once the reset is complete, you can set up your phone and restore your backed-up data.
4. Repair your Android using Dr.Fone – Repair
Perhaps a lesser known solution to fixing a whole array of common Android system errors is to use a PC software application called Dr.Fone – Repair. The application can be downloaded to your personal or work computer and in just a couple of clicks, it can diagnose and fix a whole list of common Android issues, not limited to:
Black screen of death
Play Store not working
Android won't turn on or off
Apps keep crashing
Android OTA update failed
Stuck in boot loop
Android system UI not working
Android phone or tablet gets bricked
The software comes at a small cost compared to paying a repair centre or buying a new phone, and from our experience, it has a very high success rate for running firmware and restoring your phone to full functionality.
Here we'll run through the steps for restoring your phone with Dr.Fone – Repair.
Firstly, you'll need the following four components:
1. Your current phone
2. A laptop or PC
3. A USB to smartphone cable
4. You'll need to download Dr.Fone – Repair and install it on your PC.
Step 1. Launch System Repair Software
Launch Dr.Fone on your computer, and select "System Repair".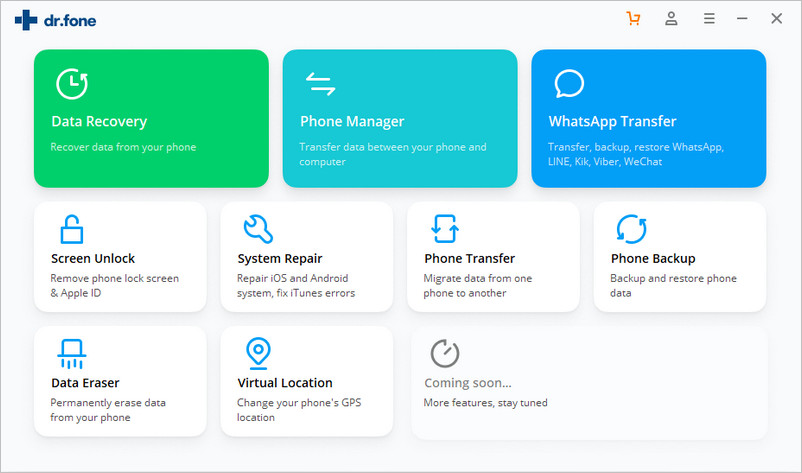 Step 2. Connect Your Smartphone Via USB
Connect your Android phone or tablet to the computer with a USB cable. Click the "Android Repair" among the 3 options.
In the device information screen, select the correct brand, name, model, country/region, and carrier details. Then confirm the warning and click "Next". The Android repair may erase all data on your device. Type in "000000" to confirm and proceed. Note: It is highly recommended that you backup your Android data before opting for Android repair.
Step 3. Repair the Android device in Download mode
Before your Android device can be repaired, it is necessary to boot your device in Download mode. Follow the steps below to boot your Android phone or tablet in DFU mode.
For a device with Home button:
1. Power off the phone or tablet.
2. Press and hold the Volume Down, Home, and Power buttons for 5s to 10s.
3. Release all the buttons, and press the Volume Up button to enter the 4. Download mode.
For a device with no Home button:
1. Power off the device.
2. Press and hold the Volume Down, Bixby, and Power buttons for 5s to 10s.
3. Release all the buttons, and press the Volume Up button to enter the Download mode.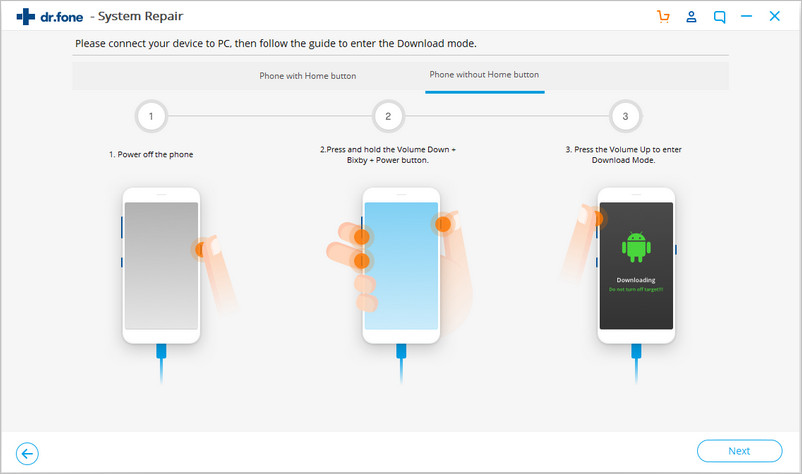 Then click "Next" so the program can start downloading the firmware.
Step 4. Firmware Downloaded and Fix Begins
After downloading and verifying the firmware, the program automatically starts repairing your Android device.
Step 5. Android Fixed
Your Android device will have all system issues fixed.
Et Voila, your previously misfiring Android device is back to normal! Feel free to let us know how you got on in the comments and if there is anything you'd like to share with us or other visitors to AndroidPCSuite.com.