Having worked in the mobile phone industry for many years, I'm familiar with the most common issue encountered in the second-hand phone market: your newly purchased second-hand phone is Google Account locked and therefor you are unable to fully use the smartphone as you had hoped.
If this is something you are currently experiencing, it may seem like you've lost a lot of money – particularly if you've just forked out for an expensive or top of the range Samsung device.
This is a very common issue when buying used handsets on the after-market.
Even though the previous owner has gone to the trouble of listing the phone on second-hand marketplaces like eBay or Amazon, it doesn't always mean they have taken the steps to ensure the device is wiped, factory restored and ready for the new user to charge up and use.
If you've recently purchased a used Samsung from someone on eBay or Amazon, only to find that yes, the screen lock has been removed, but the Google Account is still actively in use – then you have two options:
1. Contact the previous owner and aske them to remotely remove the Google Account or;
2. Download a piece of computer software and remove the account (also known as the FRP lock) yourself in a few simple steps
Here I'll show you how to do both of the above, so you can unlink the Google Account on your Samsung and restore it for full use.
How to Remotely Remove a Google Account or FRP Lock from your Device
OK, so this one is relatively easy – but it does require the previous owner to act on your behalf. In order to have the Google account remotely removed from your device, you will need to contact the previous owner and ask them to unlink the account by following the below steps:
1. Go to the Google Account online
2. On the left navigation panel, select Security.
3. On the Your devices panel, select Manage devices.
4. Select the device and then Sign out.
There! That's it, the Google account will be locked from your device.
Remove a Google Account or FRP Lock from your Device using 4uKey for Android
If the previous owner is unresponsive or you simply cannot wait on a third party to perform the remote account removal, then you have the option of using a very popular and stable piece of software called: Tenorshare 4uKey for Android (available to download here).
This Android PC Suite has a range of features and can even remove your Samsung's PIN or Pattern lock, if you've also found the device is screen locked.
Let's introduce you to the software.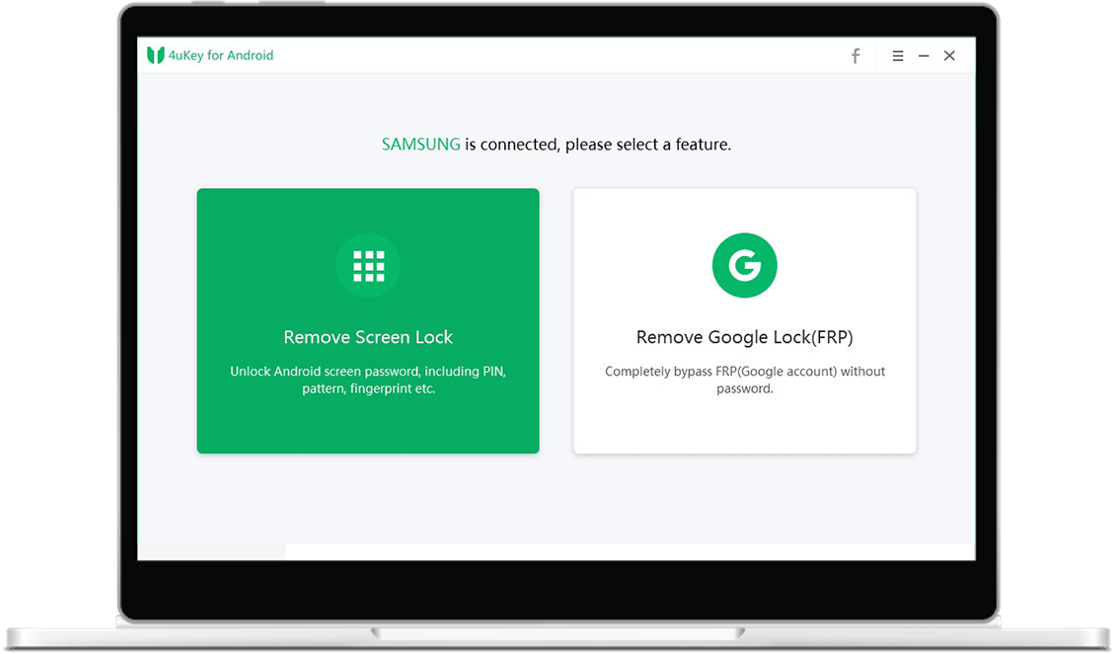 Features of Tenorshare 4uKey (Screen Unlock)
Completely Remove FRP Lock
Is your Samsung device stuck in Google account verification? How to remove Samsung account without password? Tenorshare 4uKey for Android will solve these problems in just a few clicks once your device is connected to your PC and the software.
Remove Any Android Screen Locks in Minutes
Tenorshare 4uKey is capable of removing all formats of screen lock on your Android device. One can easily process the unlocking features without professional or technical knowledge. Although easy and quick to operate, this software is unable to remove lock screens without data loss, so please be aware of this limitation.
Auto System Detection before Unlocking Android
For each Android device that is password locked, it will prepare corresponding test profiles to detect whether your device is ready to perform the next operation, making it less likely to brick your device once the Android lock screen remover is processed – a unique and useful feature of the software versus market alternatives.
OK, that's the software. Let's show you step by step how it works:
Step 1. Connect Samsung Device
After installing 4uKey for android on your computer, connect your Samsung device then choose the feature "Remove Google Lock(FRP)".
Step 2. Start the Google Account Removal Process
Now, you will jump to next screen. Please check the note and click "Start Remove".
Step 3. Send Notification to Samsung Device
Tenorshare 4uKey for Android will send a notification to your Samsung device. Please don't disconnect your phone during the process.
Step 4. Set up Samsung Device
Once you receive the notification, click "View" option on your Samsung device, and type the URL https://www.tenorshare.com/frpfile in the browser. Then, download the "BypassFrp.apk" and you will jump to the Settings page.
Click "Next" button to continue. You need to set up screen unlock pattern by following the steps on interface.
Hit "Next" to go on the final 3 steps. After setting the unlock pattern click "Done".
Step 5. Reboot Samsung Device
Last, you need to reboot your device and use the unlock pattern you just set to access your Samsung device.
There is a video walk-through available below should you wish to see the solution in action before running the software yourself.