If you've recently come to your senses by realising that Android has just as many if not more features than iOS, but at a fraction of the cost, then welcome – you are now winning at mobile phones.
Android phones are both packed with performance and laced in beautiful design, from some of the biggest names in technology, including: Samsung, Sony, Google, LG, Xiaomi and Huawei. Each vendor puts their own unique spin on the UX of Android, due to the open-source nature of the operating system. With great software, design and incredible camera technology, it's no wonder Android has over 1.5 billion users globally.
Anyway, you've already made the move to Android, so that's enough of the sales pitch! Now however, you may be wondering how you can migrate all of your iPhone's photos, messages, app data, documents and contacts to your new Android device – without the stress and hassle of doing it manually.
Well, you'll pleased to know that the answer lies below, it's called Dr.Fone – Phone Transfer. After downloading this handy piece of computer software, you can begin the process of seamlessly transferring all of your smartphone contents from your iPhone to your new Android device.
You'll need four things in order begin the content transfer:
1. Your current phone
2. Your new phone
3. A laptop or PC
4. A USB to smartphone cable
5. You'll need a Phone Transfer software download Dr.Fone – Phone Transfer.
Before we show a step by step of how to transfer your smartphone contents, here's a brief overview of the solution Dr.Fone – Phone Transfer.
Features of Dr.Fone – Phone Transfer
Transfer Smartphone Content in Just a Click
Irrelevant of make, model or operating system, this PC application allows you to connect your handsets using a USB cable and then migrate content by file type from one phone to the other. Users can select and transfer multiple file types including contacts, SMS, photos, videos, music, documents and more. The application works regardless of whether the phone is network locked or not.
A Quick and Easy Way to Transfer Data to Your New Smartphone
Once connected, it takes just a few minutes to securely move your content from one phone to the other. This Android PC Suite supports over 8,000 smartphones from brands such as: Samsung, Apple, Huawei, Google, HTC, Sony, LG, OPPO, Honor and ZTE.
OK, that's the software. Let's show you step by step how it works:
Step 1. Launch Phone Transfer Software
Launch Dr.Fone on your computer, and select "Phone Transfer".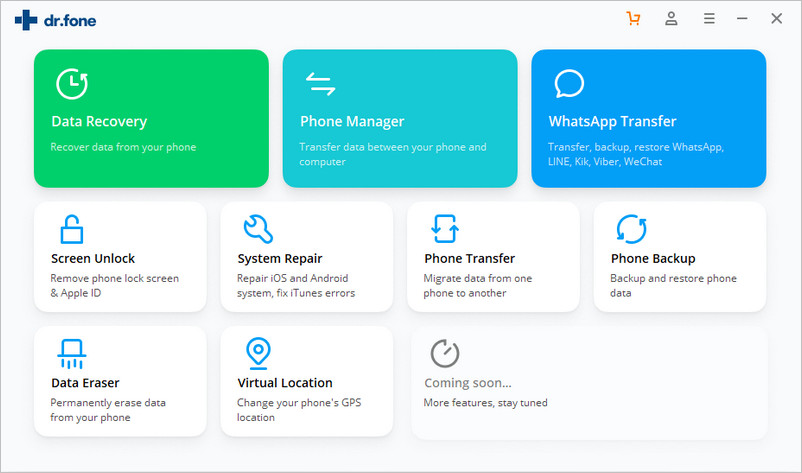 Step 2. Connect Your Devices
Connect your devices via USB. The data will be transferred from the source device (left hand-side) to the destination device (right hand-side). You can use the "Flip" button to exchange their position.
Step 3. Start the Transfer
Select the file types you would like to transfer and then click "Start Transfer" to begin the process. Don't disconnect the devices until the process is complete. You can check the "Clear Data before Copy" box if you wish to erase data on the destination phone before beginning the transfer to the target phone. Within a few minutes, all selected files will be transferred to the target phone successfully.
And there you have it, all of your precious photos and content transferred to your new Android phone in just a click. Bye bye iPhone! Oh, and before you decide to bin your old iPhone – it probably still has some resell value, so pop it on eBay or Google recycling websites to see if they'll exchange your redundant device for cash.