Have you recently bought or upgraded to a new Android device? If so, you may be wondering how to transfer your beloved photos, contacts, messages and app data to your new device. Regardless of which phone you had before, here is a step by step guide of how to transfer all content to your new handset.
If your previous phone was an Android device or even an iPhone, we've got the solution for seamlessly transferring content between phones in just a couple of clicks.
You'll need four things in order begin the content transfer:
1. Your current phone
2. Your new phone
3. A laptop or PC
4. A USB to smartphone cable
5. You'll need to download a handy piece of software called Dr.Fone – Phone Transfer.
Before we show a step by step of how to transfer your smartphone contents, here's a brief overview of the solution Dr.Fone – Phone Transfer.
Features of Dr.Fone – Phone Transfer
Transfer Smartphone Content in Just a Click
Irrelevant of make, model or operating system, this PC application allows you to connect your handsets using a USB cable and then migrate content by file type from one phone to the other. Users can select and transfer multiple file types including contacts, SMS, photos, videos, music, documents and more. The application works regardless of whether the phone is network locked or not.
A Quick and Easy Way to Transfer Data to Your New Smartphone
Once connected, it takes just a few minutes to securely move your content from one phone to the other. This Android PC Suite supports over 8,000 smartphones from brands such as: Samsung, Apple, Huawei, Google, HTC, Xiaomi, Sony, LG, OPPO, Honor and ZTE.
OK, that's the software. Let's show you step by step how it works:
Step 1. Launch Phone Transfer Software
Launch Dr.Fone on your computer, and select "Phone Transfer".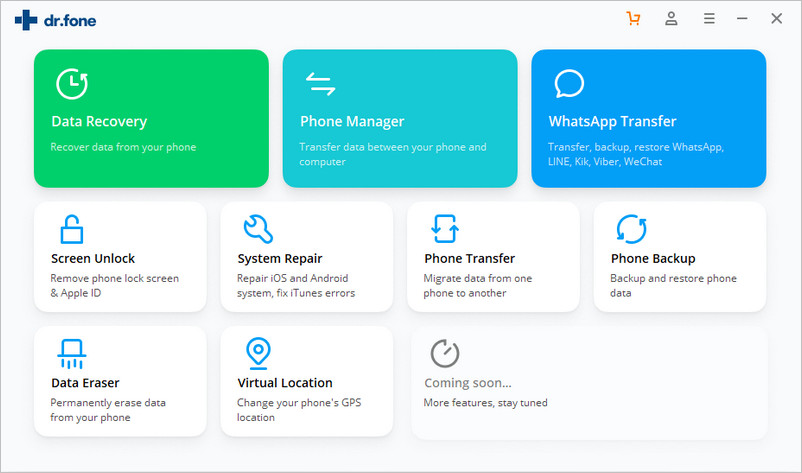 Step 2. Connect Your Devices
Connect your devices via USB. The data will be transferred from the source device (left hand-side) to the destination device (right hand-side). You can use the "Flip" button to exchange their position.
Step 3. Start the Transfer
Select the file types you would like to transfer and then click "Start Transfer" to begin the process. Don't disconnect the devices until the process is complete. You can check the "Clear Data before Copy" box if you wish to erase data on the destination phone before beginning the transfer to the target phone. Within a few minutes, all selected files will be transferred to the target phone successfully.
And there you have it, all of your precious photos and content transferred to your new phone in just a click – regardless of whether you are porting from Samsung to Samsung, Huawei to Samsung or iPhone to Android!