Dr.Fone

System Repair

Fix various Android system issues like black screen of death
Restore Android system to normal. No skills required!
Supports 1000+ Android devices
Highest success rate of fixing Android issues
Available for Windows on PC or Mac


About

Features

How to Use

Technical Specifications

User Ratings & Reviews
About Dr.Fone – System Repair
This Android PC Suite behaves like a system diagnostic tool, much like those used everyday on laptops and computers. Only with Android errors, which can be wide and varied, this software diagnoses and fixes operating system issues by simply connecting your smartphone to the software via a USB connection.
Once connected, the software runs it's diagnostic in just a couple of clicks – seeking to repair your Android issue regardless of what led your Android to become disfunctional. View the 'Features' tab for information on which conditions the software repairs without the need for a professional Andriod technician.
Features of Dr.Fone – System Repair
Fix Android Problems Like a Pro
Experiencing abnormal symptoms on your Android phone or tablet? There's a high possibility that the Android system has malfunctioned somewhere. A tech-savvy Android technician may find many ways to fix the issue, but it's really hard for those without the tools or the know-how. This Android repair tool makes light work of being able to identify and fix all types of system issues, such as:
Black screen of death
Play Store not working
Android won't turn on or off
Apps keep crashing
Android OTA update failed
Stuck in boot loop
Android system UI not working
Android phone or tablet gets bricked
Repairing Android has Never Been So Easy
This Android repair tool spares all the efforts to find a proper firmware to flash your Android phone. With this tool, you can repair the Android system in just a few clicks. During the Android system repair, it is easy to operate as on-screen instructions are provided to guide you step by step.
1000+ Android Models Supported
This Android repair program allows you to fix system issues on most Samsung models, including the latest Galaxy S9/S10. It doesn't matter if your phone is networked locked or unlocked, you can diagnose and fix the system error within minutes due to it's intelligent programming and ability to detect and repair a multitude of different Android system issues.
How to Repair Android System?
Unlike other tech tools, Dr.Fone – System Repair does not require any skills to detect and repair the Android system. It's a simple process with onscreen options to guide you through the steps. As this Android Repair tool may run in-depth system recovery and consequently erase device data, you are advised to backup your Android data before starting to fix issues.
Step 1. Launch System Repair Software
Launch Dr.Fone on your computer, and select "System Repair".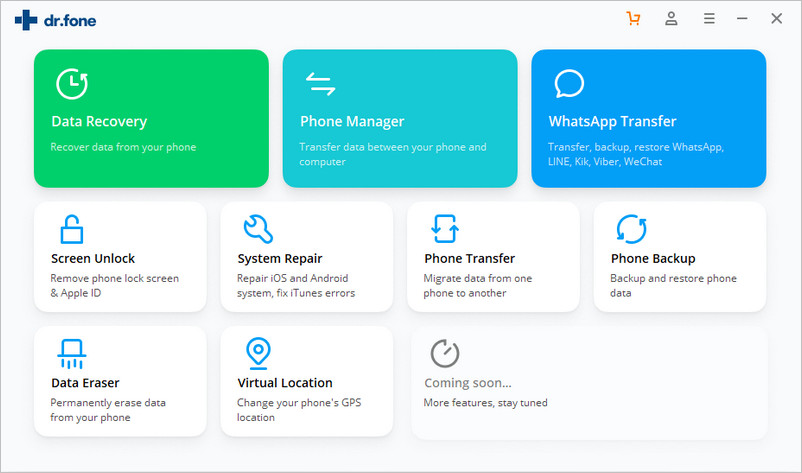 Step 2. Connect Your Smartphone Via USB
Connect your Android phone or tablet to the computer with a USB cable. Click the "Android Repair" among the 3 options.
In the device information screen, select the correct brand, name, model, country/region, and carrier details. Then confirm the warning and click "Next". The Android repair may erase all data on your device. Type in "000000" to confirm and proceed. Note: It is highly recommended that you backup your Android data before opting for Android repair.
Step 3. Repair the Android device in Download mode
Before your Android device can be repaired, it is necessary to boot your device in Download mode. Follow the steps below to boot your Android phone or tablet in DFU mode.
For a device with Home button:
1. Power off the phone or tablet.
2. Press and hold the Volume Down, Home, and Power buttons for 5s to 10s.
3. Release all the buttons, and press the Volume Up button to enter the 4. Download mode.
For a device with no Home button:
1. Power off the device.
2. Press and hold the Volume Down, Bixby, and Power buttons for 5s to 10s.
3. Release all the buttons, and press the Volume Up button to enter the Download mode.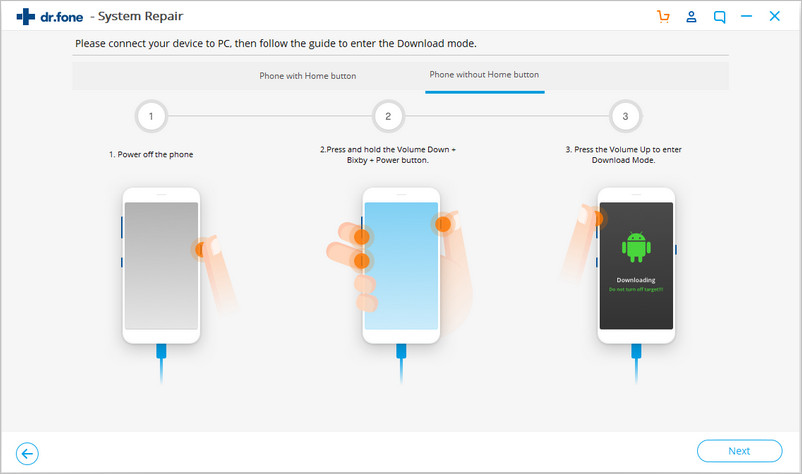 Then click "Next" so the program can start downloading the firmware.
Step 4. Firmware Downloaded and Fix Begins
After downloading and verifying the firmware, the program automatically starts repairing your Android device.
Step 5. Android Fixed
Your Android device will have all system issues fixed.
Technical Specifications
CPU: 1GHz (32 bit or 64 bit)
RAM: 256 MB or more of RAM (1024MB Recommended)
Hard Disk Space: 200 MB and above free space
Android: Android 2.0 and above
Windows: Win 10/8.1/8/7/Vista/XP
Mac: 10.14 (macOS Mojave), Mac OS X 10.13 (High Sierra), 10.12(macOS Sierra), 10.11(El Capitan), 10.10 (Yosemite), 10.9 (Mavericks), or 10.8
User Ratings & Reviews
4.5 out of 5 stars (based on 2 reviews)
Phone keep crashing and now restored
Get Dr.Fone – System Repair plus all other Android PC Suites in one download.