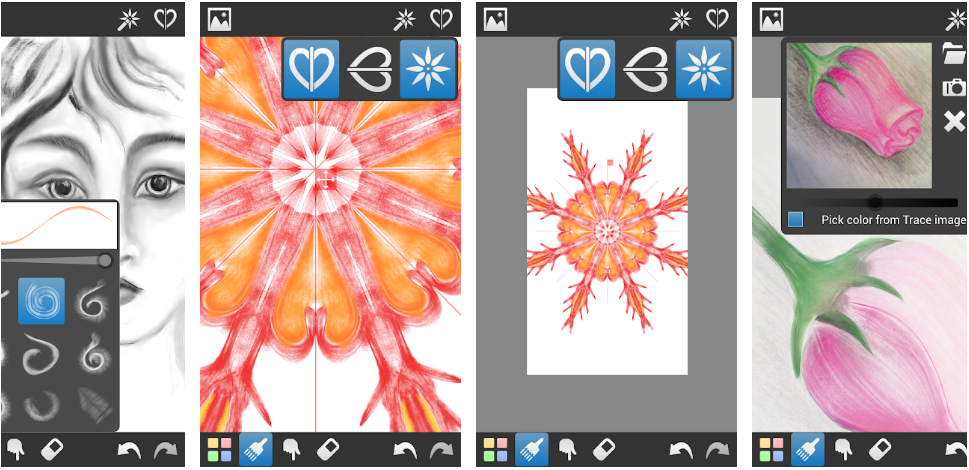 There are quite a few ways to get creative on the Android platform, but not all are geared towards the serious artist. InspirARTion Sketch and Draw is a fun and realistic drawing app, designed to get real results, for real artists. The app itself is teeny in size (1.3MB) so won't clog up your smartphones' memory. The app can be this small purely because of it's realism. It's not loaded with tonnes of predefined templates and effects, rather, it provides a handful of life-like strokes, an unlimited color palette and a blending tool.
What more does a real artist need I ask?
InspirARTion Sketch and Draw is Spen compatible, so if you own a Samsung smartphone or tablet then you can get busy with pencil precision. There a few common strokes to choose from, each requiring a certain level of skill in order to apply correctly. For beginners, this is a great way of understanding real drawing techniques.
art2As if working with a graphite pencil, the app allows you to sketch out your subject and then apply light and shade by using the in-built blending tool. There are countless colour schemes to further bring your creation to life. Simply map out your picture by sketching the outline, then go to town on colourisation via a number of true-to-life methods. The more seasoned artist will be in his/her element.
Fancy a helping hand? The app offers a really neat 'Trace' feature! Via the top right wand icon simply import an image from your existing gallery (or take a new photo) and in comes your new subject. The app sets the newly imported image as your work-board background and a slightly paler overlay allows you to visibly sketch over the top. Once finished, simply remove the background image and voilà! You've got yourself a perfectly proportioned sketch.
Once you're happy with your creation you can save the image to your gallery and share it with your friends. There are a few other handy options, such as erase, undo, redo and a symmetry tool – which allows you to sketch a shape and have it mirrored directly above, opposite or wherever you please.
I have to say, making a decent graphic with InspirARTion is a little beyond my capability. It's been a while since I put pen to paper. Hopefully with a bit more time and persistence I'll create something share-worthy. In fact, when I do, I'll add it to this page.
That's the beauty of having this app in your pocket, I can draw whenever, wherever. And with time I'll only improve.
Art is a thing of love, it can't be created using predefined templates, and nor can it be rushed. The developers clearly had this in mind when building this app. For the experienced and budding artists among us, brushing up on your sketching skills is made possible thanks to Intelloware's InspirARTion app. Oh, and did I mention, it's 100% free!
Archived Page. This content has been archived by our editors, it may be out of date or external content may no longer exist.