Dr.Fone

WhatsApp Transfer

Backup Android/iOS WhatsApp messages to PC
Restore WhatsApp messages to Android/iOS
Transfer WhatsApp chats between Android & iOS
Backup and restore WhatsApp messages in just a click
Supports 1000s of Android and iOS devices


About

Features

How to Use

Technical Specifications

User Ratings & Reviews
About Dr.Fone – WhatsApp Transfer
Dr.Fone – WhatsApp Transfer is your total WhatsApp message backup and restore solution which enables you to firstly backup all of your chats to your PC or MAC in just a click, and then restore your chats to either Android or iOS in just a click also.
With this Android PC Suite you can backup and restore all of your chats and messages between operating systems, so if you are switching from iOS to Android, simply use this tool to backup your chats from your iPhone and then restore them all to your new Android device in just a click.
Features of Dr.Fone – WhatsApp Transfer
Effortless WhatsApp Transfer
Regardless of whether you wish to use the same WhatsApp chats across multiple devices or if you simply need to migrate your chats from your old handset to the new, you can use this program to selectively transfer your WhatsApp chat history between your Android, iPhone and iPad.
This software fixes the known issue that WhatsApp history can only be restored to a device of the same operating system (i.e. Android to Android or iOS to iOS). Dr.Fone – WhatsApp Transfer is compatible with both operating systems and so makes it possible to back and restore chats, attachments and messages from iOS to Android and vice versa.
This Android PC Suite isn't limited to WhatsApp either, you can even backup all of your LINE/Kik/Viber/Wechat chat history, including personal chats and group chats; text, voice and video chat history; images and stickers. You can preview the LINE/Kik/Viber/Wechat backup file and restore chat history or even selectively export any item to your computer for safe keeping.
Step 1. Launch WhatsApp Transfer Software
Launch Dr.Fone on your computer, and select "WhatsApp Transfer".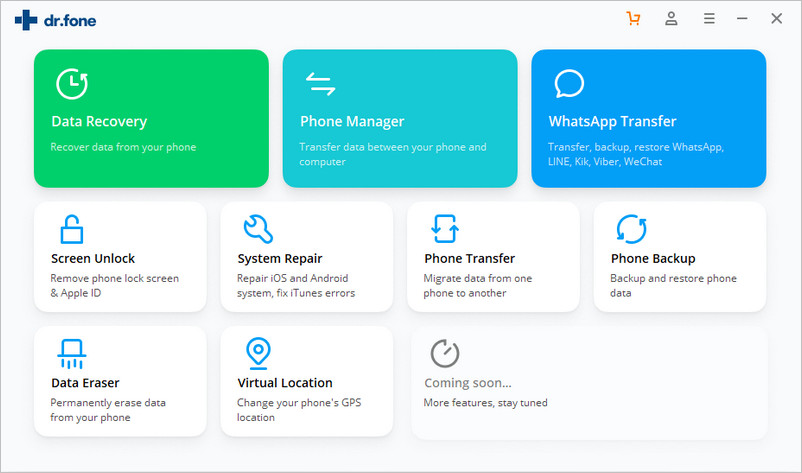 Step 2. Transfer WhatsApp Messages to Android/iOS Devices
To transfer WhatsApp messages from an Android device to another Android device or even an iOS device to an Android device, choose "Transfer WhatsApp messages". Then connect your two devices to the computer. Once the program detects them, you will get the window as follows.
Step 3. Begin to transfer WhatsApp messages
Now, click "Transfer" to begin the WhatsApp message transfer. Since the transfer here will erase existing WhatsApp messages from the destination device, you need to click "Yes" to confirm this action if you still want to move forward.
Step 4. Wait until the WhatsApp message transfer is complete
During the transfer, you don't need to do anything. Just keep your devices connected and wait for the process to finish. When you see the window below, you can disconnect your devices and view the transferred data on your destination device.
Technical Specifications
CPU: 1GHz (32 bit or 64 bit)
RAM: 256 MB or more of RAM (1024MB Recommended)
Hard Disk Space: 200 MB and above free space
Android: Android 2.0 and above
Windows: Win 10/8.1/8/7/Vista/XP
Mac: 10.14 (macOS Mojave), Mac OS X 10.13 (High Sierra), 10.12(macOS Sierra), 10.11(El Capitan), 10.10 (Yosemite), 10.9 (Mavericks), or 10.8
User Ratings & Reviews
5 out of 5 stars (based on 3 reviews)
Got my chats off my iPhone and onto to Android
Get Dr.Fone – WhatsApp Transfer plus all other Android PC Suites in one download.